Wednesday, March 29, 2023
(click here to listen to or read today's scriptures)
Down by the Rio Grande
If our God, whom we serve, can save us from the white-hot furnace and from your hands, King Nebuchadnezzar, may he save us. But even if he will not, know that we will not serve your god or worship the golden statue that you set up.
In mid-June, by noon, Judge Roy Bean's set-em-up tavern temperature would have been 97 degrees in the shade. Langtry, Texas didn't have any shade, except inside. There were more hangings at the local judicial establishment in the summer than any other time. No one liked to wait around much in that heat, so the executions were usually performed post-haste, with no chance for appeal.
"Throw 'em in the fiery furnace!" he might have yelled from time to time. Judge Roy Bean's taste for whiskey and colorful language filled most anyone who traveled through Langtry with fear and trembling. Bring plenty of change, they thought. He killed sometimes for the theft of a quarter. If you didn't have a quarter to lend him now and then, well, he just might consider that a theft.
So when the three boys from Judea came through on their Jewish horses, they considered not stopping. But they were hungry, they were thirsty, and they stopped.
"Got a quarter?" Bean hollered. "Nope!" Well, there goes Shadrach. Bean's dragoons grabbed him off his horse and tied his hands behind his back. There's no telling, down here in the deserts of south south Texas, what the local boys might do.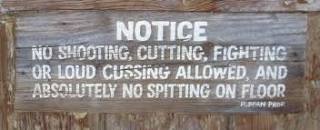 Meschach tried to mount a protest, but apparently that's a hanging offense as well. Bean offered him a whiskey bottle, but Meschach declined. In a jiffy his hands were tied as well. That just left Abednego, who for a moment considered taking off on his appaloosa filly. But he really didn't want to abandon his brothers. He stepped down off his horse and held out his hands. But he made the mistake of spitting in the general direction of the judge.
King Nebuchadnezzar's face became livid with rage against Shadrach, Meschach and Abednego. He ordered the furnace to be heated seven times hotter than usual and cast the three boys into the white-hot furnace.
But as Abraham Heschel said, "Evil is never the climax of history." As night fell, everyone at the tavern could see the fire burning down below, on the edge of the Rio Grande. Then, although the flames should have been brighter as darkness came, the flames disappeared from sight. The judge assumed the whiskey he'd consumed that day had dimmed his eyesight, and he fell asleep.
Next morning several of the regulars at the tavern woke up with Roy, and they wandered down the trail to the cage.
Did we not cast three men bound into the fire? Oh, yes, assuredly. But I see four men, unbound and unhurt, and the fourth looks like a son of God!
Nebuchadnezzar was blown away and fell on his feet, worshipping himself the God who saved His sons and sent His angel.
What about the judge? At least Judge Roy Bean realized he was in the hands of something greater than he'd seen before. His mind cleared a bit, he sent for the boys' horses, and opened the door of his cage. The metal was still hot.
"Now get on outta here before I do something stupid," he hollered at Shadrach. The angel looked surprised. No one had talked to him like that before. He looked up at the sky. "Should I strike down that old bat with a bit of lightning?"
No, that old judge is my kid too, God told the angel. Best leave him alone, let him find his way.
Jesus said, "Amen, amen, I say to you, everyone who commits sin is a slave of sin. A slave does not remain in a household forever, but a son always remains. So if the Son frees you, then you will be free indeed.
(Daniel 3 – Deuterocanonical, Luke 8, John 8)
(posted at www.davesandel.net)
#