Monday, August 15, 2022
Solemnity of the Assumption of the Blessed Virgin Mary
            (click here to listen to or read today's scriptures)
My soul proclaims the greatness of the Lord
The last enemy to be destroyed is death.
The warfare between God and Satan, which Jesus shows John in his Revelation, takes my breath away. This is no ordinary death; it is the death of death itself, and it begins in the heavens with the Queen of Heaven, Mary herself, standing strong on the front line, as Satan attempts to destroy life.
A great sign appeared in the sky, a woman clothed with the sun, with the moon under her feet, and on her head a crown of twelve stars. She was with child and wailed aloud in pain as she labored to give birth. And she did give birth, to a son, destined to rule all the nations. Her child was caught up to God and his throne.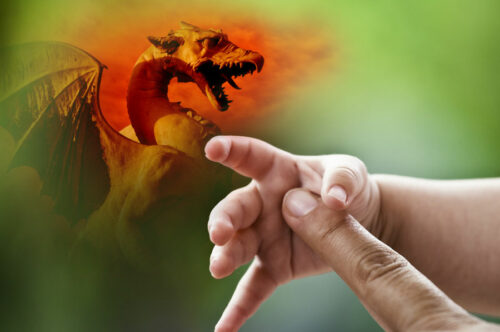 In her own humanity, she will not die. Encircled and attacked by evil and its minions, she flees to a place prepared by God, deep in the desert, the place Jesus knew from the beginning and to which he returned after he was baptized.
Mary listened to the thunderclaps above her as a storm threatened to deluge the desert. She felt no fear. She heard God's power deep within the clouds.
Now have salvation and power come, and the Kingdom of our God, and the authority of his Anointed One.
We seek solace in the company of Mary. Our God reigns, Jesus her Son with Jireh and Rapha, our provision and our healing, our Father. I fall down on my knees and then my face, weeping with both thankfulness to be made a man and repentance for compromising myself in so many ways. Mary watches in patience, recognizing her humanity in mine even as she knows what God has done in her.
My soul proclaims the greatness of the Lord; my spirit rejoices in God my Savior, for he has looked with favor on his lowly servant.
Like Mary, G. K. Chesterton recognizes and exults in the paradoxes of Christianity (chapter 6 of Orthodoxy):
In one way Man was to be haughtier than he had ever been before; in another way he was to be humbler than he had ever been before. In so far as I am Man I am the chief of creatures. In so far as I am a man I am the chief of sinners … When one came to think of ONE'S SELF, there was vista and void enough for any amount of bleak abnegation and bitter truth … Christianity got over the difficulty of combining furious opposites, by keeping them both, and keeping them both furious. The Church was positive on both points. One can hardly think too little of one's self. One can hardly think too much of one's soul. (p. 61-62)
As was Mary, we too are given great wonders to behold. Unlike Mary, all too often we don't see God's magical forest through the trees, and in exhaustion, we faint dead away, thinking we have been abandoned by our Maker when He is really waiting with us through the dark night of our soul.
We need our Solemnity today, for it to lift us up above the canopy so we can catch a glimpse of the Castle above the trees.
(Revelation 11-12, Psalm 45, 1 Corinthians 15, Luke 1)
(posted at www.davesandel.net)
#