Grandma Dot has passed away
Friday, March 17, 2023 (posted on March 15)
(click here to listen to or read today's scriptures)
(see also the devotion for March 9)
Grandma Dot has passed away
We shall say no more "Our god," to the work of our hands; for in you the orphan finds compassion. I will heal their defection, says the Lord. I will love them freely.
Last week we spent some days in Evansville. Margaret spent all three plus days with Kay and her mom in their home. Their mother Dorothy (we all call her Grandma Dot) spent that time in her hospital bed, mostly sleeping.
And now … well, a few hours ago, late afternoon on Wednesday, March 15, a week after Margaret flew in and two days after we said goodbye, Dorothy passed away. "I don't think she's breathing?" Kay asked the hospice nurse. "No, she isn't," the nurse said.
Dorothy was born on December 27, 1923, and she died on March 15, 2023. So she was 99 years old. As Charles Dickens and the bible put it, she lived to a good old age.
My mom Grandma Angie also made it to 99. And she nearly made it to home hospice; the hospice registrar was headed to Mom's house the morning she suddenly died eighteen months ago. And our brother in law Jim's mom, who died just a few weeks ago, also almost made it into hospice. Both of them would have been blessed by those amazing helpers, as were Dorothy and Kay, day by day.
How much have we learned from these mamas, to guide us and bless us in our own years?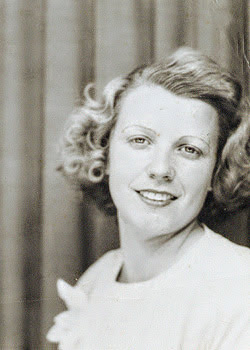 Just out of her teens, Dorothy left Kentucky and spent a year or two in Chicago at the converted Schwinn Bicycle Factory making parts for guns and planes in World War II. She has a green thumb, and her elephant ears and roses have graced her life forever. After Margaret's dad died she bought a new baby blue blue Ford pickup truck to ride around in with her girls. She was strong, she was invincible, she was woman!
But there is never any point in putting bandages of denial or protest on whatever happens next, as we age and age and age. An Orthodox writer named Chryssavgis writes about this, what he calls the desert:
You do not have to find the desert in your life; it normally catches up with you. Everyone goes through the desert…. It may be in the form of some suffering, or emptiness, or  breakdown, or breakup, or divorce, or any kind of trauma that occurs in our life. Dressing this desert up through our addictions or attachments will delay the utter loneliness and the inner fearfulness of the desert experience, but if we go through this experience involuntarily, it can be both overwhelming and crushing. If, however, we accept its necessity, it can prove both constructive and liberating.
Dorothy worked at accepting her death, as she often had to work at accepting her life. Many things did not come easily for her. But for many decades Dorothy read the Bible, and books by Charles Stanley to inspire her. She sent us cards, often, and not only us but our kids too, sending her love. It didn't need to be a birthday. On the phone she told us how she prays for us every day. She couldn't quite get to church, but for years one special gentleman named Jack has taken it upon himself to visit her often.
When Jesus saw that he answered with understanding, he said, "You are not far from the Kingdom of God."
Our last visit was precious and precious and precious. In the future our memories of Dorothy will be tips of a lifetime, because Dorothy's presence will remain, sharing what she learned over a century from God about the art of loving.
She is precious in his sight. And ours too.
I will feed them with the best of wheat, and with honey from the rock I will fill them.
(Hosea 14, Psalm 81, Matthew 4, Matthew 12)
(posted at www.davesandel.net)
#