King Lear's good Samaritan
Fifteenth Sunday in Ordinary Time, July 10, 2022
            (click here to listen to or read today's scriptures)
King Lear's good Samaritan
In the twinkling of an eye we are in Bloomington-Normal, Illinois, settling into our hotel for a short summer's nap. Just a few moments more, and we sit on the terrace of the old Wrigley family mansion, given lately to Illinois State University and renamed Ewing Manor. Margaret found a lovely outdoor table, where we enjoy our sandwiches, tangerines, chocolate and gourmet tuna salad. Large storms and small drizzles have fallen all day, and now there is thunder and lightning in the west, as we await the beginning of an outdoor play.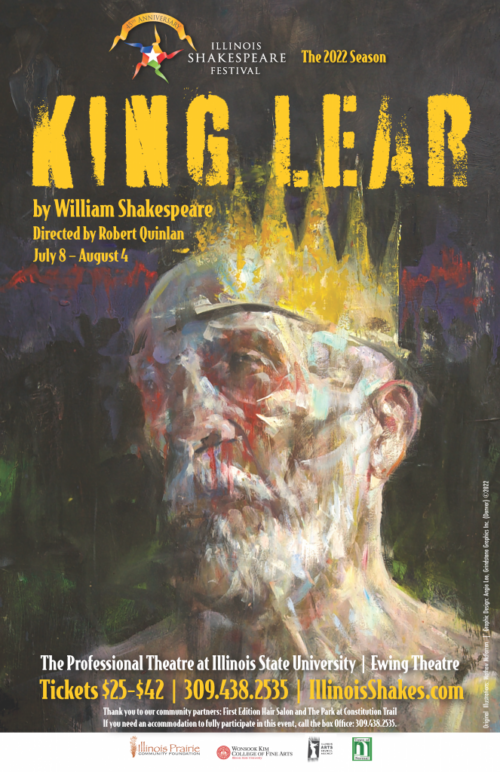 King Lear. Our friend Henson plays the lead. The background rings with dark bells and tolling thunder. The heart of Shakespeare's play beats through an awful storm that reduces both king and fugitive to madness. Many murders deepen the pools on the blood-soaked plains of ancient England. Very few survive.
At last the king carries even his sweet dead daughter Cordelia onto the stage in his arms.
Howl, howl, howl, howl! O, you are men of stones: had I your tongues and eyes, I'd use them so that heaven's vault would crack. She's gone forever!
In this the play's concluding chaos, Lear's two nastier daughters have also met their fate.
All's cheerless, dark, and deadly. Your eldest daughters have fordone themselves, and desperately are dead.
Lear's exhausted. His kingship, removed, nearly restored, but now he cannot. Cordelia will not breathe.
No, no, no life! Why should a dog, a horse, a rat, have life, and thou no breath at all? Thou'lt come no more, never, never, never, never, never! Pray you, undo this button: thank you, sir. Do you see this? Look on her, look, her lips, look there, look there!
The king sees what is not there, and finally he dies himself. He dies. He dies. No more breath for either of them. His friends make little of reviving him. So says the Earl of Kent:
Vex not his ghost: O, let him pass! He hates him much that would upon the rack of this tough world stretch him out longer. The wonder is, he hath endured so long …
And the few remaining shadows wander off the stage as the presumed new king offers us an epitaph:
The weight of this sad time we must obey; speak what we feel, not what we ought to say. The oldest hath borne most: we that are young shall never see so much, nor live so long.
Stage lights off, darkness, silence, and then applause. No smiles during the curtain call. We must feel ourselves the weight of this sad time, speak little and feel much.
Shakespeare's personal Catholicism, stirred in with so much from other less religious turnings, led him into corners and then out of them. He did not hesitate but bowed to fate. Still then, or often anyway, a remarkable angel turns the tides. In all his works, the Histories, Tragedies, and the Comedies, there seem to be invisible, almost unheard singers in the rafters, singing just as they sang to Isaiah after the death of King Uzziah, "Holy, holy, holy, is the Lord God Almighty." That's what I hear, anyway. Sometimes his characters hear them, sometimes they do not.
What did Moses say to his people?
Keep the law of the Lord. This command is not too mysterious and remote for you. It is not up in the sky, that you should say, "Who will go up in the sky to get it for us and tell us of it, that we may carry it out?" Nor is it across the sea, that you should say, "Who will cross the sea to get it for us and tell us of it, that we may carry it out?"
The commands are crystal clear. Love the Lord your God. And love your neighbor as yourself. And who is your neighbor? Shakespeare explored that territory as well as anyone. Jesus' "good Samaritan" did two things well: he cared nothing about sacrificing himself for a stranger. And he went far out of his way in doing that. Shakespeare's Earl of Kent, renounced by his king and everyone else, disguised himself and stayed by King Lear's side until the end, endangering his own life over and over.
Moses continued to speak to his Israelite friends.
No, this command is something very near to you, already in your mouths and in your hearts; you have only to carry it out.
(Deuteronomy 30, Psalm 69, Psalm 19, Colossians 1, John 6, Luke 10)
(posted at www.davesandel.net)
#