Moments with the Amish
Wednesday, November 23, 2022
(click here to listen to or read today's scriptures)
Moments with the Amish
I, John, saw in heaven another sign, great and awe-inspiring. I saw something like a sea of glass mingled with fire.
Our family gathering began west of Arcola, Illinois at Country Salvage, which for more than fifty years has drawn Amish families in their carriages and bargain hunters from a hundred miles around. We ourselves were coming from Springfield and Urbana.
Aly, who is ten years old, had the idea in Evansville, during a Biaggi's birthday lunch for Margaret. Margaret and I have loved Country Salvage since we discovered it years ago when we were picking up raw milk from our Amish farmer friend. But Jack (13) and Aly, along with their parents Chris and Melissa, were skeptical of shopping the store because it sold near-date items at a big discount. We wanted to break that skepticism if possible, and Aly thought we could have a Secret-Santa event, with $15 each to spend at Country Salvage.
So we did. An Aly basketball game gave us just 30 minutes to shop on the Saturday afternoon before Thanksgiving. Each of us had a Trader Joe's grocery bag to keep our choices hidden. The store closes at 3 on Saturday, so we made our way through the checkout line. On her way out Melissa exclaimed, "NOW I know why you love this store so much!"
On the sea of glass were standing those who had won the victory over the beast and its image and the number that signified its name. They were holding God's harps, and they sang the song of Moses and the song of the Lamb.
Back home in Urbana, we shared the contents of our bags. Marshmallows with chocolate inside, honey roasted cashews, eight varieties of popcorn (including mushroom popcorn), Elf Christmas cereal, dried strawberries, Havarti cream cheese, 89 cent lunchables complete with Crunch bars. So much fun. A pound of wrapped chocolate caramels for 99 cents, and three caramel apples covered with sprinkles for … wait for it … 99 cents!
Country Salvage goes to sleep at 3 on Saturday. The propane lights come on, the electric lights go off. There will be a Sabbath on Sunday. Owners Adlia and Richard Gingerich will be with their families in church. In the evening rather than watch TV, they might make popcorn and play a game or work on a jigsaw puzzle. Puzzles along with many varieties of popcorn are staple items at Country Salvage, as well as Beachy's, another Amish landmark grocery just down the road.
One of our dairy farmer friends, Willis, is the pastor of a local Amish congregation. We wanted to stop and visit him as well on Saturday, but thought better of invading his family home with six of us, rambunctious and excited about our trip to the Salvage store.
Great and wonderful are your works, Lord God almighty. Just and true are your ways, O king of the nations. Who will not fear you, Lord, or glorify your name? For you alone are holy.
At home we ate turkey salad sandwiches and fantastic turkey soup. Margaret made stock from a turkey carcass on Friday. She knows what to do with a turkey!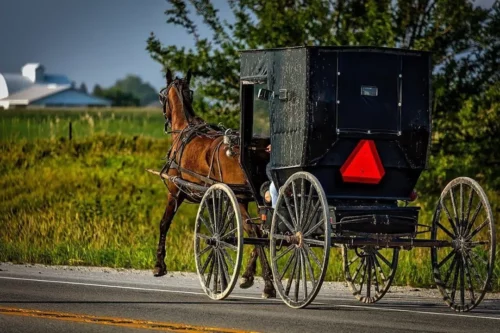 Often our imagination is captured by the reverie of living a simple life, settling with the Amish near Arcola, tossing out our iPads and reviving our interest in jigsaw puzzles. Wholesome food without the mental gymnastics of getting our nutrition balanced perfectly, work that begins at dawn and ends at dusk, a lifelong love affair with horses and carriages, and slow traveling down the road complete with bells, clip-clops, and a heater in the carriage – rarely being in a hurry, learning from childhood how to live quietly and take deep breaths one after another.Sounds pretty good, doesn't it?
All the nations will come and worship before you, for your righteous acts have been revealed.
(posted at www.davesandel.net)
#