At least two paths to Texas
Wednesday, August 3, 2022  
(click here to listen to or read today's scriptures)
At least two paths to Texas
Thus says the Lord: the people that escaped the sword have found favor in the desert.
Margaret met a man from Afghanistan, who pushed her wheelchair through the Dallas-Ft. Worth airport. A year ago he was a driver for the US Embassy in Kabul. On August 30, 2021 he and his eleven family members were among those evacuated to the United States.
They were flown to Dallas, and "dumped." In those times of emergency, nothing had been prepared for them. He tracked down a couple of relatives and gradually they scraped their way into American life. But his wife speaks no English and has no Afghan peers to talk to during her long days while her husband pushes a wheel chair around the airport for wages and tips.
In his mid-50's, Margaret thought. He dressed well and his posture made her think of a quiet, successful businessman. He pushed her chair onto the Skylink train. She made it to her next plane in plenty of time. She gave him a large tip, and he pushed it into his pocket without looking.
I spent the day driving, breakfast in Tyler at the beginning with my friend Casey, who tomorrow will begin a state job chaplaining paroled Texas prisoners. Presently, he preaches several Sundays a month and helps his mom, an artist and art teacher, with her painting. Her hands shake too much for her to hold her brush steady, so she stands behind him while Casey sits at her easel with her brush in hand, and she tells him what to do. She is tall and very thin and uses a walker. Her words are clear.
This is better than Bob Ross. He's on the other side of the TV screen, but Casey's mom is right behind him. When he makes a mistake she does NOT swat the back of his head. She didn't even do that when he was a child. She is and was a sweetheart in Casey's life. He left an Episcopal parish two hundred miles west of Austin partly in order to be with his parents (dad 85 and mom 87) as they get older. His wife's mom too. They've been in Tyler a bit longer than a year.
We came to Austin to be with Miles and Jasper while we still could. The generations are different, but Casey and Michelle had the same idea. Let's do this while we can. When that's a motive force for how and where you live, God is pleased. "Love the Lord your God. And love your neighbor as yourself." Love your mother, love your dad, love your children and grandchildren. While you can. There is no power on earth greater than love.
Shout with joy! Exult at the head of the nations! Proclaim your praise and say, "The Lord has delivered his people. The Lord will guard us as a shepherd guards his flock."
Because the ten mile traffic backup was on the other side of I 35, I got to Andi's in time for lunch. I hammered on the door. Lots of noise inside. Running footsteps. The doorknob turned, or tried to turn. I gave it a little help.
Inside Jasper and Miles burst into smiles. I did too. They jumped on me. I dragged them into the living room, holding onto my legs. They pulled me down and we had a giant pile-up. Everybody was laughing, especially Andi. She had salad and chicken nuggets and birthday cupcakes. Jasper's 3rd birthday was Sunday, July 31. The cupcakes were still just fine, and we cut off the tops and turned them over to make … sandwiches!
With age-old love I have loved you; so I have kept my mercy toward you. Again I will restore you, and you shall be rebuilt, carrying your festive tambourines, and you shall go forth dancing!
Before picking up Margaret at the airport last night, I found my way into the parking lot at Barton Springs Pool, always 68 degrees, clear spring fed water in the middle of Austin, the "crown jewel" of Austin Parks and Recreation. Really, the pool is more like a lake, with a natural floor and "Barton Creek Salamanders" living in the pool. It's open from 5 am till 10 pm. Parking is scarce, but I found a spot. For me, the old guy, it cost $2 to swim.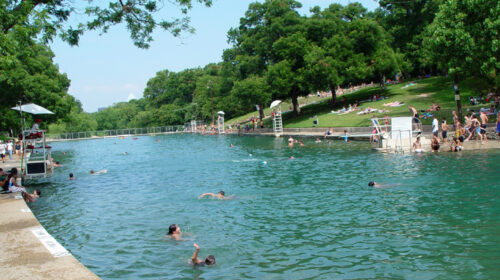 The temperature a couple hours earlier was 105. I dunked myself over and over in the cold water. I could not have been happier. The crazy traffic, the burning sun, the new weird way to buy a pool pass … who cares? Get in the water and stay there.
At least for a few minutes. The airport, I had to get to the airport. Margaret would soon be waiting.
(Jeremiah 31, Luke 7, Matthew 15)
(posted at www.davesandel.net)
#