Charlie Parker's pancakes
Thursday, July 21, 2022
            (click here to listen to or read today's scriptures)
Charlie Parker's pancakes
Jack and Aly are growing up. Jack's 13 and Aly is 10. We spent many days with them when they were little, and we played doctor, walked around the Illinois State capitol building, visited the State Museum, and (over and over) went to the Washington Park playground. Swings and slides and more swings and slides, plenty to do. We walked the aisles of White Oaks Mall, ate giant cookies and sometimes even ice cream. Cozy dogs on Route 66, getting wet in the backyard slip-n-slide, hiding in my guitar case, making cookies and grilled cheese and eating it all.
Blessed are you, Father, Lord of heaven and earth; you have revealed to little ones the mysteries of the Kingdom.
Earlier this week Margaret traveled down to Evansville for a few days with her mom and sister and niece. I spent parts of Sunday and Monday with Jack and Aly. We didn't do any of those things that we did five years ago. I asked them for ideas. What can we do together now? I'm reading books a lot of the time, how about that?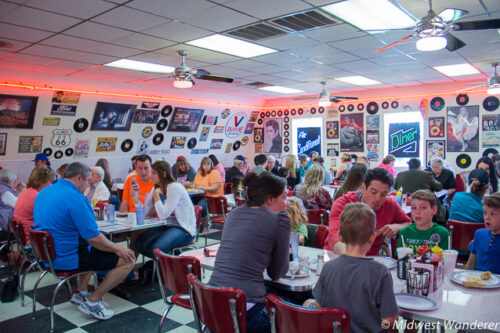 Well, not so much. But we could have breakfast somewhere? And Jack suggested a place he'd been to once, Charlie Parker's Diner. Not owned by the saxophonist, just a guy and his wife who bought the Quonset hut where it's housed in 1992, and turned it into a place whose red vinyl chairs and chrome-formica tables are all full at 9 am on Monday morning. Guy Fieri heard about it too, and so it has its own 2008 slot on Food Network's "Diners, Drive-Ins, and Dives."
There's a gimmick, if the Quonset hut and diner furniture aren't enough: the Giant Pancake. The cook uses 18 ounces of batter to make a 16 inch pancake, served on a pizza pan. That's what I ordered, and what I ate about half of. I did not order the Giant Pancake Challenge, which is four of those beauties. Let's see: 18 ounces x 4 = 72 ounces, or 4 ½ pounds of batter, not to mention the syrup and the butter. Jack and Aly thought I should order that. If I ate it all, it was free, and I even got a $20 gift card. They have too much confidence in me.
With you is the fountain of life, and in your light we see light. Keep up your mercy toward your friends, your just defense of the upright of heart.
Just  eating half of one pancake was enough. Even then, my "fountain of life" felt obscured for a couple of hours. We continued our morning with some fishing at Washington Park, where we mostly tried to keep the turtles from eating our pepperoni bait.
To anyone who has, more will be given and he will grow rich; from anyone who has not, even what he has will be taken away.
After that I got to do some "student" driving, first with Jack out in the country. He's too young of course, but he's also getting pretty good after a few trips we've taken in the last year. Aly's driving was actually legal, in a golf cart the Sandels acquired this weekend. She drove and drove. I rode and rode. She was having a ball. Her eyes stayed on the road, and her hands were on the wheel.
Jack got busy with his lawn mowing business in the afternoon, and I dropped Aly off at a friend's house. It was good to be with them for awhile, watching them living in their current season. Which soon will change again, of course. What a joy, to be alive and growing.
Blessed are your eyes, because they see, and your ears, because they hear.
(Jeremiah 2, Psalm 36, Matthew 11, Matthew 13)
(posted at www.davesandel.net)
#