In the sun, silence … at night, fall into the Milky Way
Monday, April 4, 2022                                   (click here to read today's scriptures)
In the sun, silence … at night, fall into the Milky Way
The Lord is my shepherd.
Out in the middle of the Hill Country west of Austin, four of us in our small group of seven already practice lectio divina, "sacred reading." We were wondering together how to make our relationships with God more intimate and more accurate, less riddled with our own opinions and emotions, and more quiet, simple and inquisitive.
At our Grace Covenant Church men's retreat most of us are bible readers. So it's a relatively simple task to move that experience a half-turn to lectio divina. Rather than reading all of Psalm 23, only read the first verse. THE LORD IS MY SHEPHERD.
Choose a single word from the verse. Choose "MY." Swirl the word around in your mind, and in your mouth. Taste it a little. Maybe notice how the word sounds like Japanese "MA," which means the silence between two sounds. Claim the joy of the fact that God has chosen YOU as a child. Laugh out loud.
Read the verse again. THE LORD IS MY SHEPHERD. Speak or write two or three sentences (no more) about the verse:
ISN'T THIS WHAT I LEARNED AS A LITTLE BOY, SITTING ON MY GRANDPA'S LAP, WHEN HE READ THE BIBLE TO ME? I think of myself, I am self-centered, I look forward to the surrender of old age, of chronic pain, of death and the letting go that requires. SURELY GOODNESS AND MERCY WILL FOLLOW ME.
Read the verse a third time. THE LORD IS MY SHEPHERD. Speak or write two or three sentences directed toward God, a short prayer:
IN YOUR PASTURES I FEEL SAFE AND SOUND. THERE IS PLENTY HERE TO EAT, AND SPACE TO SLEEP. I AM THANKFUL, LORD, THAT YOU WANT TO TALK WITH ME, AND THERE IS NO HURRY.
Read the verse a fourth and final time. THE LORD IS MY SHEPHERD. Close your eyes and settle into a twenty minute time of still small centering silence.
There is no hurry, here in the green pastures, fed from God's horn of plenty, watched over by my Shepherd. In days to come, I can walk through the rest of the psalm in this same, quiet, patient way. Ten more days, each day settling into the kind of conversation with God that goes both ways, that does not settle for platitudes or Christianese, and often results in revelation and repentance that quietly cleanses and satisfies my soul. It's where I came from when I was born, where I belong now, and where I am going.
You make me lie down in green pastures.
You walk with me beside still waters.
You restore my soul.
You lead me in paths of righteousness for your name's sake.
Yea, though I walk through the valley of the shadow of death, I will fear no evil, for thou art with me.
Your rod and your staff, they comfort me.
You prepare a table before me in the presence of my enemies.
You anoint my head with oil, and my cup runs over.
Surely goodness and mercy will follow me all the days of my life,
And I will dwell in the house of the Lord forever.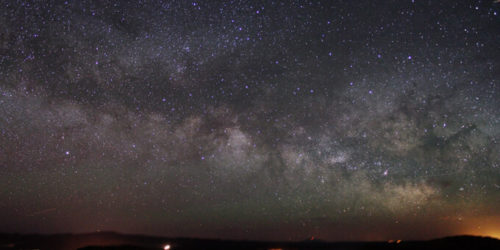 It will be dark soon. Kyle, one member of our group, brought his tripod and Sony camera. He'll set it up near the vast west-facing porch of our "Chateau" and program it to take a single picture every thirty seconds, from just before sunset … to sunrise. He hopes to see the Milky Way slide across the sky as we sleep.
As we sleep.
Glory be … to the Father and the Son and the Holy Spirit, as it was in the beginning, is now, and ever shall be, world without end. Amen.
(Daniel 13, Psalm 23, Exodus 33, John 8)
(posted at www.davesandel.net)
#