Lamb that was slain
Thursday, November 17, 2022
Memorial of Saint Elizabeth of Hungary, Religious
My 73rd birthday
(click here to listen to or read today's scriptures)
Lamb that was slain
Watching Miles' on birthday number six, and then Aki 32 years older, and now watching myself in the rear view mirror on this 73rd birthday, I realize … what? Birthdays aren't exactly a dime a dozen yet, but it's getting there.
The birthday that knocked me in the head was number 30. Sitting around the kitchen table at Mom and Dad's house in 1979, just married to Margaret, considering parenthood and the end of somethings like the Moonies and hitchhiking, opening the door to the Christian heaven, looking around me and not seeing New York or San Francisco or London or even Chicago, but Lincoln Illinois, sore from hauling concrete and smoothing out those wide gray pillows of rock, readying a feeding floor for a couple hundred Charolais beef cattle to eat their way into our stomachs … I was more than a little frightened at this return to my roots.
And I didn't quite, but almost, become a farmer, and I did get a master's degree in counseling but I didn't quite, but almost, become a counselor. Life was turning corners kind of too quick for me to keep up, which is as it should be. I've never been in control like I thought I was, and by the age of 30, it was high time I started to accept that.
By birthday 31, Chris was nearly born. And then he was born, a month after my birthday, on December 17. We found a live Christmas tree to plant in the front yard of our old country house on a hill after the holiday, to honor him and give our dogs BJ and Bear a tree to run around and, well, you know … A few days before Christmas our family from southern Illinois and Lincoln gathered to christen Chris and oogle and ah him, and we were never so happy for them to leave, not long after they arrived. We were happy just to be with each other, the three of us.
Birthday 33, Marc is four months old. Al Schmidt and I make homemade wooden blocks for Chris, and he refuses to accept them from anyone except Santa Claus. We are chastened, and amused.
Birthday 37, Andi is eight months old. I have recovered from my vasectomy. We are settling into the first house we've owned, in Waynesville, where the scroll of our life will loosen and begin to roll much more quickly off its spindle and onto the floor.
I, John, saw a scroll in the king's right hand. It had writing on both sides and was sealed with seven seals.
Some years later, driving to Illinois from Austin, the scroll unrolling still, I catch myself remembering past after past after past, and thinking of the lamb that was slain, and its blood caught in a silver basin, and the sweetness of Jesus within it, and the communion with him that
gives me life.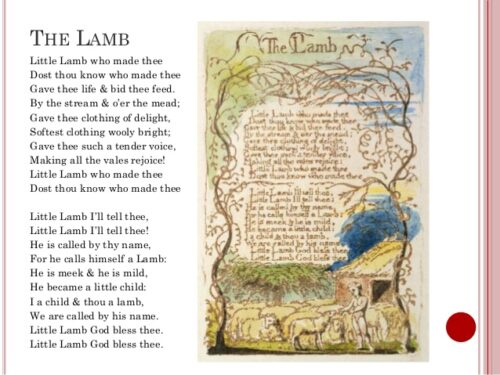 I saw standing in their midst a lamb that seemed to have been slain. Seven horns and seven eyes, which are the seven spirits of God sent out into the whole world.
There are those seven spirits again. And the lamb … this Lamb is Jesus.
So the lamb came and received the scroll from the king's right hand. And the four living creatures, the twenty-four elders, they all fell down before the Lamb, with their harps and golden bowls of incense (which are the prayers of the holy ones). And they sang, proclaiming the lamb worthy to receive the scroll and read it.
Aquinas said, "If something is true, no matter who said it, it is always from the Holy Spirit."
To the Lamb they sang, "You were slain and with your Blood you purchased for God those from every tribe and tongue, priests for our God, and they will reign on earth.
(Revelation 5, Psalm 149, Psalm 95, Luke 19)
(posted at www.davesandel.net)
#