Mixed memories on this particular sunny day
Thursday, March 16, 2023
(click here to listen to or read today's scriptures)
Mixed memories on this particular sunny day
If today you hear his voice, harden not your hearts. Let us kneel before the Lord our God who made us.
Outside our study window in Urbana two old fashioned rocking lawn chairs, painted bright yellow, rest on a ten foot wide patio of red bricks. Afternoon sun is shining on the bricks, and a beautiful brown cat suns herself. She feels my gaze, looks up at the window, and pads quietly behind the shed. The sun shines. This week we have an extra hour of sunlight in the evening. In four days springtime will come.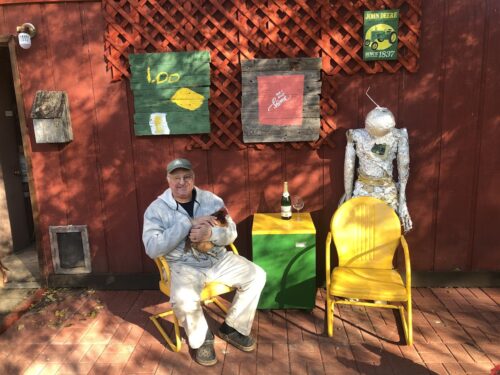 Between the chairs, above a green and yellow rolling cart, John Deere's green and yellow tractor sports the company's first year. SINCE 1837. And below the sign a few barn siding planks are painted, "LET'S STAY HOME."
I found pictures from November three years ago, just about the time we mostly moved down to Austin, in the middle of covid-days. Marc and I must have finished our work on the brick deck about then. A chicken looks a bit uncomfortable sitting in the crook of my arm. I'm wearing a Pioneer hat which I've worn since then, mostly in our Texas apartment pool swimming with Miles and Jasper, so I won't get a bald-head-sunburn. It has faded down to not much green. It means more to me this way than when it was new.
My Pioneer dealer buddy Jeremy gave me four Pioneer hats, including this one, before our lives split away from each other. My brother John's tractors, still green and yellow, have been around about as long as we have. Memories twist and fade, and fall away. I generally have no idea about the accuracy of details which I recall, even from just a few days ago, let alone years. I generally don't care.
What I care about is the people back then, and how we all cared for each other. Or didn't, sometimes. Yesterday we visited Laura our friend at Jacques Seed Company when we all worked there in the mid 1980's. Didn't seem like any of us had much aged. Stories, friendship, reminders, pictures, bygones, friends and family who have died in the past 40 years … the room felt thick with sweet reminiscence. These days Laura works at our elevator co-op, where she is office manager. Often she works alone. Her grandkids are in 4-H, and she had time today to work on some 4-H papers before we stopped by.
After we left Laura we felt unapologetically nostalgic. We drove through Clinton, Illinois and remembered times years ago at restaurants there, when we lived nearby. Down the straight-as-an-arrow two lane highway through barren cornfields, people and places popped out of the past.
Listen to my voice; then I will be your God and you shall be my people. Walk in all the ways that I command you, so that you may prosper.
We saw an Amazon truck delivering in a Clinton neighborhood. "I think we've shot ourselves in the foot," Margaret said. "Used to be, farmers made their crops and merchants stocked what they needed, and everyone worked together. Now we order and expect it on our doorstep tomorrow." We had to get to the store then, but not now. The merchants expected and needed our shopping loyalty, but the merchants are busy with other things now, most of them. And our loyalty has blown away to Amazon, in the wind.
I don't want to fall into this deep, sort of pitiful pit too often, or for too long. It's seductive, like an electric blanket. If I leave one of those on too high too long and fall asleep, a midnight crisis looms. Heat fog folds over into my brain. My dreams sweat. I wake up. Ugh. Turn it off, turn it off. That's what I don't want to happen to my reminiscing.
One of my favorite Champaign restaurants, Everyday Kitchen, has closed, after not too many months. Big investment, little return, I suppose. I had coffee, lunches, dinners there with my centering prayer friend Mary Lou, son Marc, friend Jim. My heart sank when I heard it closed.
On the other hand, Bunny's Tavern, where Marc loves his work, has been open since 1936. Its walls are plastered with pictures from every decade since. Most of my friends who live here have their own stories about Bunny's, nearly all of them good stories, funny, sweet, warm.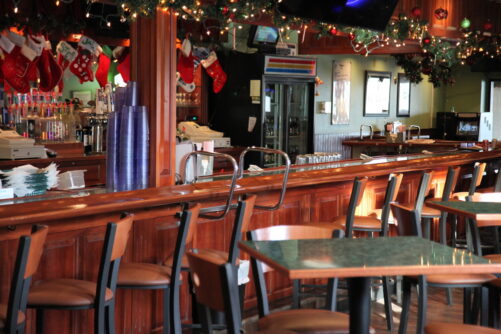 Every kingdom divided against itself will be laid waste and house will fall against house.
When my thoughts flash through the past rather than carefully constructing the present to my own specifications, I don't feel divided. If anything, I feel more unity within myself than anything. Each day belongs to itself, and each day belongs to all of those who came before it. I am glad to be enjoying my moments in the sun.
(Jeremiah 7, Psalm 95, Joel 2, Luke 11)
(posted at www.davesandel.net)
#